Remembering Darrell Hirashima
Sigs gather in the spirit of "Never Forget".
On September 29, 2019, brothers came together at the Alpha to celebrate the life and contributions of a legendary Sig, Darrell Hirashima I'72.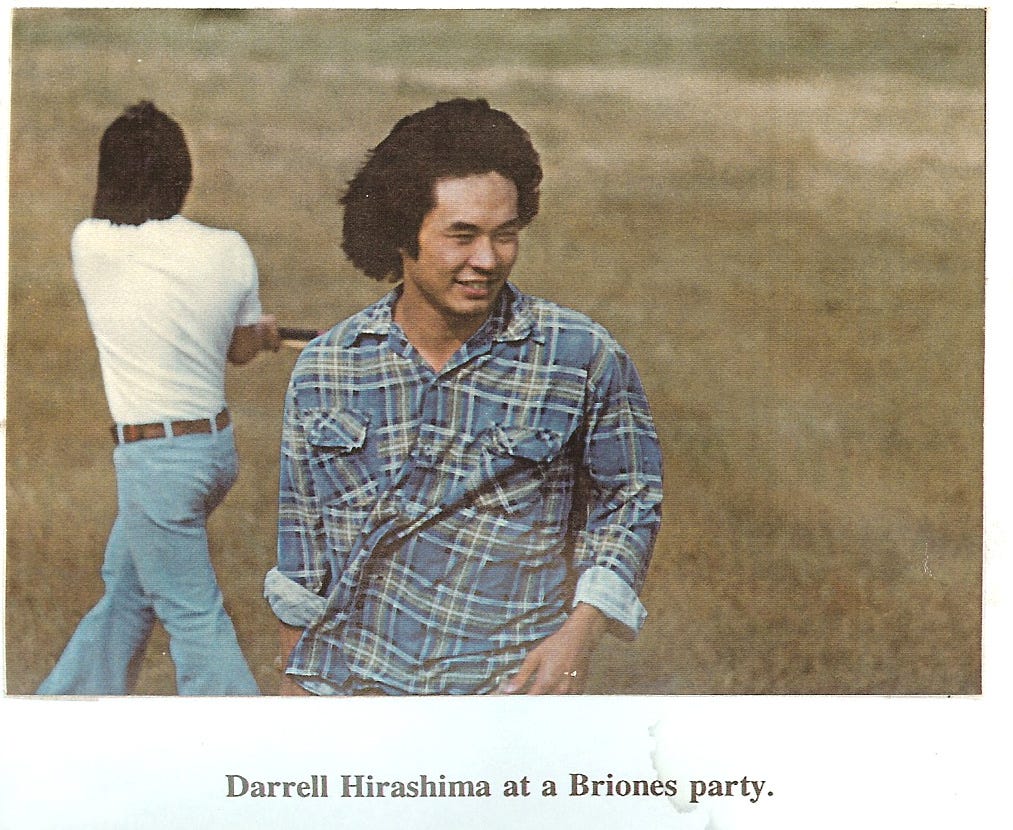 Darrell's contributions to the Society and FLT were many. He provided the spark for countless celebrations of sports, brotherhood, and life.
Darrell was born in San Francisco on May 1, 1952, the eldest of six children, and died December 19, 2008. He was a champion wrestler at Crestmoor High in San Bruno (along with three other soon-to-be Sigma Phi brothers), graduating in 1970. In 1969, Darrell met the love of his life, Theresa. They were married November 8, 1975, exactly six years after their first date, and had three children—Trisha, Darrell Jr. and Dustin. Theresa became a Sig Sister and was always at his side from high school until his death.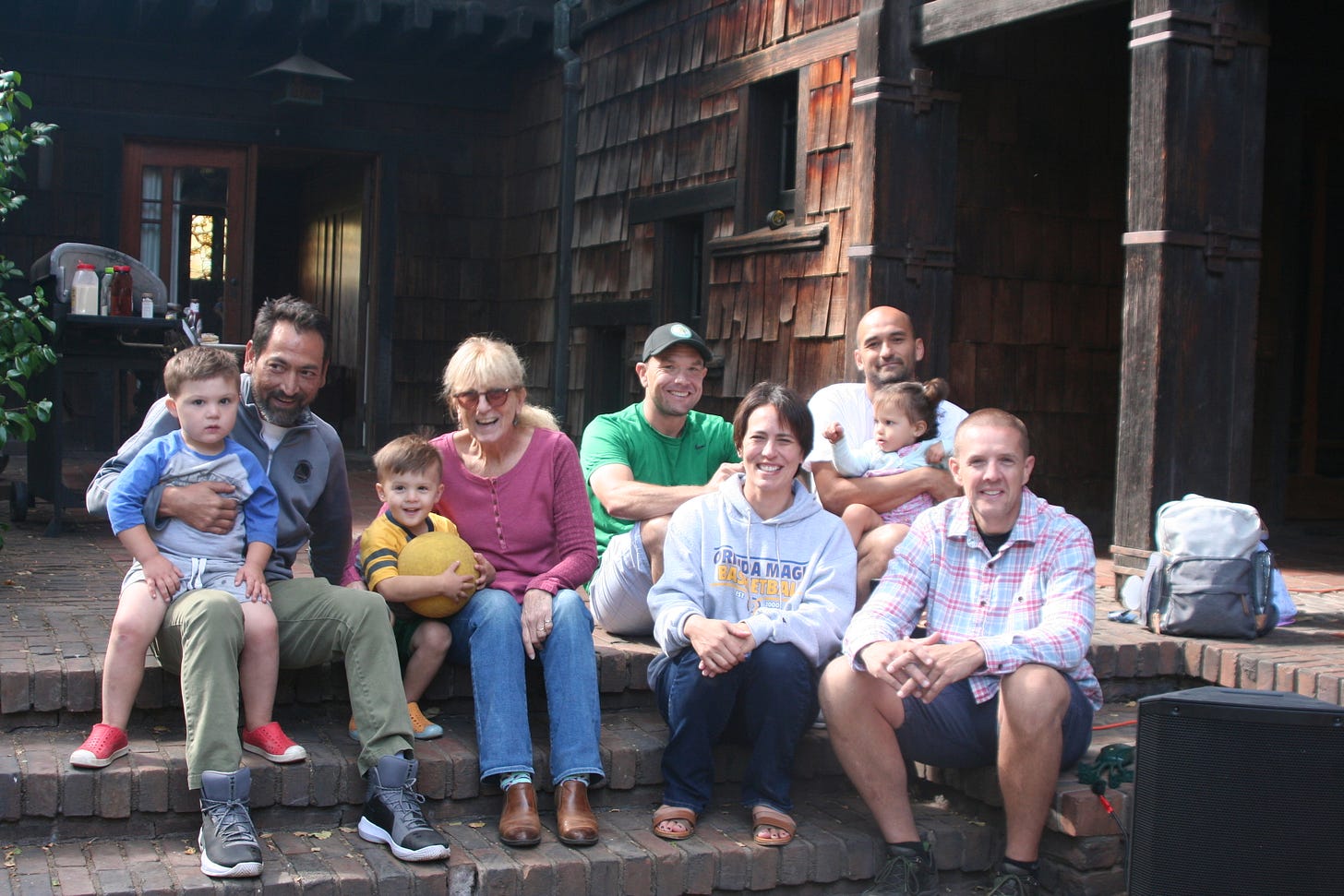 Pledges and young brothers of the late '70s and '80s usually met Darrell through the "Active/Alumni Games," competitions remembered fondly by all who participated (and survived). The series consisted of football, basketball, volleyball, softball, and pool. Darrell somehow managed to secure Cal gyms and fields for the football, basketball, and softball games, while volleyball and pool tournaments were held at the House. Besides bragging rights, the winning team took possession of the coveted "Sigma Phi Silver Spoon of Fate" award, which remains a treasure of the Halls. The series began around 1976, and the last season was in the late '80s.

Darrell also created the Sigma Phi Fantasy Football League in 1976, which was an unheard-of institution at the time. The pre-season draft parties at the Hirashima house were the stuff of legend.

But Darrell's true passion was coaching basketball. He became the Varsity Girls' coach at Miramonte High, where he led his teams to seven straight league titles, four section titles, and a NorCal Championship, and was recognized as Contra Costa Times Coach of the Year in 2002 and 2005. In 2000 he founded the Orinda Magic, recognized as a top club in Northern California.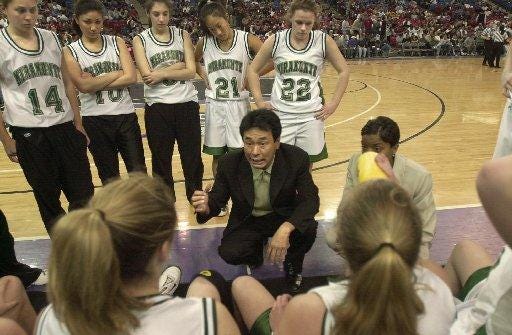 Darrell tragically passed away in December 2008. His memorial, held at the International House next door to the Alpha, was attended by over 500 people, with many continuing the celebration of his spirit late into the night at Sigma Phi, as he surely would have wanted.

Years ago, many brothers agreed that Darrell deserved a plaque installed in his memory. That tribute faltered but was not forgotten. This year, Alumni came up with not one, but two plaques in Darrell's honor. Doug Bray I'69 kicked off the effort with a fine piece, followed by a second plaque from Rich Hennum I'77, who also organized a much-needed party to celebrate Darrell's life.

On a fine fall day, we gathered to inaugurate the Darrell Hirashima Memorial Basketball Court. Among those attending were Darrell's wife, children, and grandchildren. A tasty barbecue was provided by the Actives. Johnny Hornung I'75, Kelly Wright I'73 and Jerry Barclay I'71 gave fine speeches in Darrell's honor.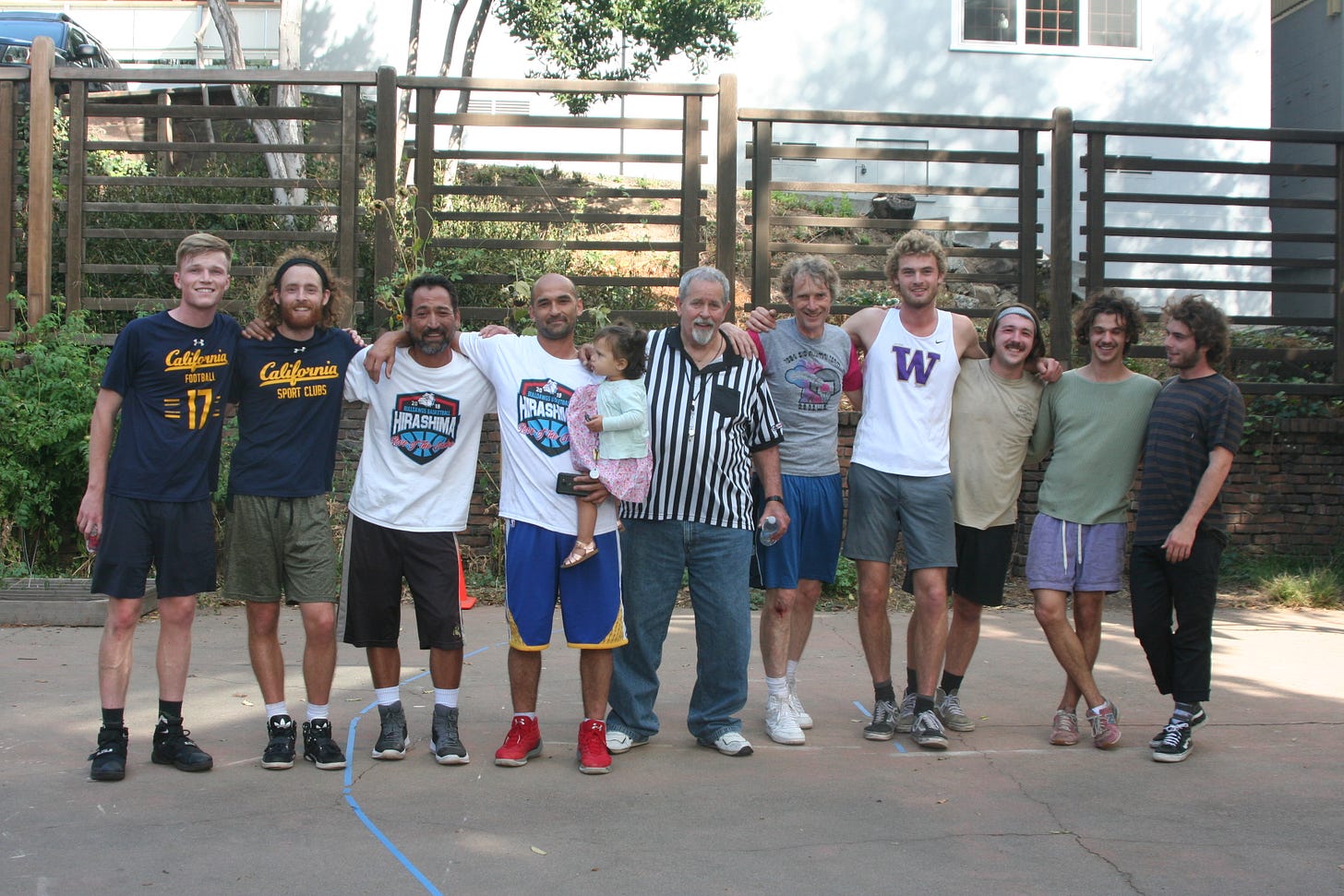 Then the first Active/Alumni Basketball Game in 30 years ensued, starting with a friendly series of informal practice games. Darrell's children joined the Alumni team, with daughter Trisha demonstrating the talent she had gained under her father's coaching. In the final competitive game, the Actives brought out their latest recruit—Ray Dahlstrom, a 6-foot, 7- inch pledge who we suspect was bid specifically for this event, along with his pledge brother Reid Nixon. They joined Zach Ross, Leor Bases, and Jackson Grey, all I'17. Playing for the Alumni squad were Joel Shumaker I'80, Eli Alpern I'14, Darrell Hirashima Jr, and Dustin Hirashima. The Actives scored a decisive win this year, but their recruiting will hopefully strengthen the Alumni team four years from now!

At the end of the day, a few players were slightly bloodied, but left with fond memories of a fitting tribute to a great brother. We hope the Actives are inspired to continue this great tradition into the future. Many thanks to Rich Hennum for his tireless efforts to bring this event together and to make it a very special day indeed.
---
Upcoming Events:
---
Would you like to be published in the SBM?
Submit your piece to editors@calsig.net. Actives and alumni are welcome!

Donate to the Phi
We've set up our own donation infrastructure to make it easy for Sigs to give and manage their donations directly (you can choose to make either a one-time donation or a monthly recurring donation):