Alumni President's Letter
Introducing the Sig Bear Monthly and Updates from the Phi
Welcome to our simple online edition of the Sig Bear, the Sig Bear Monthly, delivering articles written by alumni and actives straight to your inbox. Our goal is to publish articles by our siblings in the bond at a more regular cadence. Keep an eye out for our next post on the Darrell Hirashima memorial at the beginning of March!
Who can write for the SBM?
Actives and alumni alike!
How can I get published?
Email your piece to editors@calsig.net
---
Upcoming Events:
---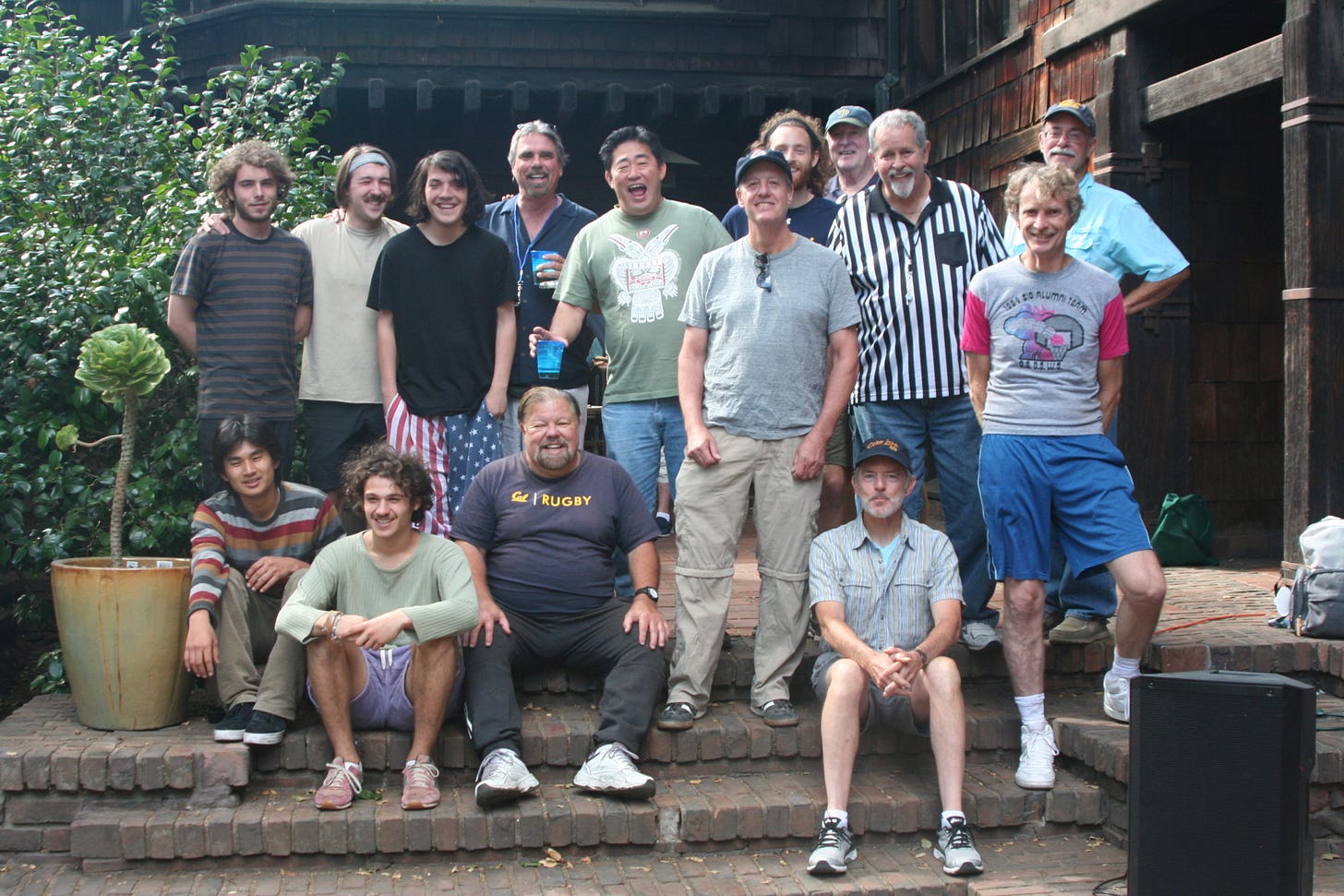 In October 2017, this brother inherited the position of Alumni President from Steve Walraven. Many thanks for his efforts. A lot has happened since our previous edition. But rest assured, the Alpha of California Sigma Phi is doing well, and the house remains standing, and beautiful.
Here are some highlights of events since we mailed a Bear:
The actives continue to initiate fine young men. It has been my pleasure to work with them, and to build a spirit of cooperation and communication between actives and alumni.

Our Lower Sun Deck had severely deteriorated and required an expensive rebuild. But our alumni came together, funded, and re-constructed the timber bridge connecting the garage to the house. You can read Jerry Barclay's article about this project in these pages.

As part of the permit process for the timber bridge, we were required to improve handicap access to the house. By the end of August, this project was completed. This new access is a very convenient passage through the service court, and bypasses the awkward stairs near the garage.  It is often this Brothers' preferred access to the back patio.

The back sprinkler system is repaired, the back lawn was replaced, and the back fence was completed.   The actives have also been working with Jerry Barclay on improving the backyard drainage, as our basement moisture situation has been an issue in rainy years.

Many of us cooked regularly on our old range, but it reached the end of its life, and we installed a fine new range.

Over the last three years, there have been discussion and/or efforts at various chapters, California included, to initiate women.  As a result, the Vermont convention meeting in September 2019 focused on this topic, and resulted in a vote that that Sigma Phi as a society is not going coed. There is an ongoing situation at Michigan which is too complicated to discuss here.

Luncheons had a hiatus due to the untimely death of Carl Melhop, who was kind enough to sponsor us at the University Club. Tex Currie took on the responsibility of restarting the luncheons. We have been meeting at China Village in Albany, which is a convenient location for the Actives. The food is fantastic, and this Brother recommends anyone who has the opportunity to stop by at the next event.

Football fans continue to flock to the house for the Actives' bbq and beer. Cal's football team is undergoing a revival, and returned to a bowl game in 2018, defeating Washington and USC in the process. 
---
Now we get to that part where you ask,
"Mr. President, what can I do to help?"
  Here is what we need:
Keep your contact information up to date as we make an effort to improve our communications. We have produced a new email listing (announcements only) in which we have included every email we could find.  If you did not receive emails in the fall providing Big Game and Swing dates from me at president@calsig.net, please send an email to that address with your latest contact information.  And don't forget to keep the national up to date with all your news and information at https://sigmaphi.site-ym.com/.

Keep in touch.  Join the Signet, or if that is too many emails for you to handle, post to our Facebook or Shutterfly site. Or just write to us, and if space allows, we are happy to publish letters in the Bear. Let us know what Sigma Phi means to you, or share significant events and changes in your life.

Your physical presence.  If at all possible, show up for an event. Alumni interaction with actives makes a lasting positive impact on our youngest members, whether at Swing, Conclave, football game days, or luncheons. Or volunteer to serve; we have many projects that need leadership.

Give us money!  Our actives pay rent, which funds the insurance and tax bills, but improvements to the house are primarily financed by alumni donations. Use the handy envelope enclosed in the Bear to send your dues. We've set up our own donation infrastructure to make it easy for Sigs to give and manage their donations directly: https://donorbox.org/calsigmaphi (you can choose to make either a one-time donation or a monthly recurring donation). If you'd prefer to make a tax-deductible donation through SPEF, go to https://sigmaphi.site-ym.com/donations/donate.asp? id=1756).
If you have been giving monthly, please verify that the website still accepts your donation. It is easy for us to lose track of donations when credit cards expire (this Brother's own contribution was deactivated for six months before he noticed).
Yours in the bonds,
Joel Shumaker, (I'80)
president@calsig.net